Eastridge Christian School
"At Eastridge Christian School we know that children are our future, and our staff provides the loving, nurturing, and attentive care necessary to help your children make that future a bright one."
CHILDCARE SERVICES //
SERVICES
We offer a variety of childcare and school services to best fit each family's needs.
All-Day Care: 6 weeks (Infants) through 4 years old (Pre-K)
Full-Day School: Kindergarten
Summer Care: Infant through 4 years old
DAILY ACTIVITIES
We strive to provide your child with well-rounded care to help them develop their whole self: mentally, emotionally, socially, physically, and spiritually. During the day, your child will have vigorous play (including outdoor play as weather permits), snack and mealtimes, reading time, center time (indoor play with various toys and learning materials), circle time, nap/quiet time, and craft time. Students two and older also get to participate in various levels of worksheets or coloring sheets to help them learn letters, colors, numbers, shapes, and animals. Students at ECS participate in Bible time where they sing songs, learn motions, and enjoy interactive story time. Your school-aged child in our Kindergarten class will be "in school" from 8am-3:30pm. Many of those students are also enrolled in after school care where they join the Pre-K students for afternoon activities and play until 5:30pm.
TUITION
Refer a friend to Eastridge Christian School and you will each receive one week free for your child after two months of enrollment!
All-Day Care and Summer Care tuition costs include a morning snack, hot lunch, and afternoon snack year-round. Care is available from 7:00am to 5:30pm.
ABOUT US //
Eastridge Christian School and Daycare opened in 1995 and is a ministry of Eastridge Park Christian Church. We are a non-profit organization that offers full day care for children ages 6 weeks through Kindergarten. We are an early education program that uses the Abeka curriculum beginning in the two-year-old room. This curriculum provides excellence in education from a Christian perspective.
In our facility, we encourage children to grow as individuals in many ways. We use learning centers and multi-sensory instruction as well as free art expression. We focus on early reading skills so the children grow into lifelong readers, thus becoming lifelong learners.
Our student and teacher ratios are low so that all our children receive the special attention they deserve to promote learning. We strive to teach children the morals and values needed to be strong Christians in the world today.
For more information about Eastridge Christian School call 972-681-5033.
MEET THE STAFF
Each of our staff members and teachers are professionals who are hired only after we have run extensive background checks. Additionally, newly hired staff cannot enter any classroom until they have completed multiple hours of training on safe childcare as well as child development and learning stages. In the classrooms, our staff members give personal attention to each child throughout the day, facilitating important mental and social development.
Jessica Abraham is the director of Eastridge Christian School. She has worked in childcare for over 15 years. During that time, she has been a director for over 3 years and ran her own state-licensed home daycare for a year. Ms. Jessica was born in Texas but moved around the country as a child before returning to Texas for college. In her spare time, she enjoys reading and travel.
Mrs. Dee joined ECS in 2012. She was born in Las Vegas and enjoyed being the teacher's helper in many of her classes growing up. She loves children and has several kids and grandkids of her own. Her husband is the pastor of a local church. Dee loves to travel and meet new people on her adventures. She enjoys working at ECS because "This job and these children are a gift from God."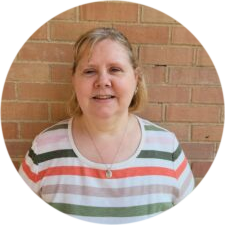 Miss Sharon came to ECS in 2016. She runs the kitchen and ensures all our children are fed according to their dietary needs and restrictions. She also frequently substitutes in our classes. Sharon always loved music growing up and was part of her high school's concert choir. Later, Sharon ministered and sang in a southern gospel quartet for 15 years. Miss Sharon enjoys working at ECS because she has "always loved taking care of children from a young age and wants to be a good example of God's love to them."
Mrs. Rachel is a professional teacher who lovingly cares for the toddlers and babies here at ECS. Rachel was born and raised in Nigeria before coming to the US with her husband. She has raised 5 kids and is now a proud grandmother of more than 10 grandkids. She has always had a passion for both teaching and singing. When asked what she enjoys about ECS, Mrs. Rachel said, "The children are so loving and a joy to be around" and that she "loves the Christian environment."
Mrs. Melissa was born in Dallas, TX. She is a mom with two boys who love to spend game time with her. She has always enjoyed baking and various crafts in her spare time. Melissa has been a preschool teacher for over 20 years. After teaching in our PreK 3 and PreK 4 classroom for a year, she now serves as the Administrative Assistant at ECS. Her favorite thing about working as ECS is "working with the children and watching them create friendships as they learn and grow."
Mrs. Melody is Texas born and raised. Growing up she loved reading and literature in her homeschool courses and took that passion into college where she got her degree in English and Literature. Melody is a big pet lover and has two large dogs of her own. She dreams of having a giant tortoise one day. Mrs. Melody serves as our Administrative Assistant at ECS. She says the most important thing about working at ECS is "making a positive and Godly impact on the lives of the children we interact with."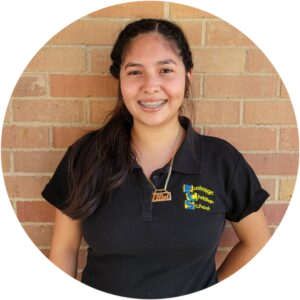 Miss Denia, our twos teacher, is a proud Texan. She enjoys getting to spoil her nieces who live in Honduras with goodie boxes each chance she gets. Growing up, Denia loved music, English, and PE in school. Now, she is working towards her bachelor's degree in Early Childhood Education. Both Denia's mother and grandmother had a passion for teaching, so she is excited to carry that to the next generation. Denia says the children at ECS are fun to be with and that they make her "a more loving person just by being around them."
Miss Jackie has always known that she wants to work with children. She began teaching children's classes at her church over 3 years ago and greatly enjoys it. She also enjoys teaching our kids here at ECS while studying early childhood education. Her favorite subject in school was math, and now she has the opportunity to teach math to children. In her free, time Jackie loves staying active by playing sports such as soccer and volleyball. When asked what she enjoys about working with kids she said that "kids simply amaze her" in the ways they learn and play.
Mrs. Lisa, our toddler teacher, loves to spend time with her husband and their 3 dogs. In school, Lisa loved to be the teacher's helper in her classes and enjoyed sports in her spare time. Lisa graduated with her associates degree simultaneously with her high school diploma and is now working towards her bachelor's degree at UNT Dallas. Mrs. Lisa loves the way children are so unique and free to express their own personalities. She says that "Children love to learn in a fun environment, so I strive to create that fun, educational environment for them."
POLICIES //
Please select a link below to download our policies or find more info.
CONTACT US //
Phone: 972-681-5624
Email: eastridge.csd@gmail.com
Facebook: www.facebook.com/EastridgeCS/
Please note that our staff and administration always prioritize the children in our care, and therefore may not immediately answer the phone. If this occurs, please leave a detailed voicemail with contact information so that we can return your call as soon as possible.